The North Raleigh Redhawks are gathering interested girls to learn and play the game of Rugby.
Why play rugby?
Perfect for players of all sizes and abilities to learn this exciting sport.
The emphasis is on learning skills, teamwork, and having fun!
No experience or equipment is needed. Bring a friend!
Skills including running, kicking, passing, space strategy, teamwork, and self-confidence will be developed
Rugby requires lots of energy and it teaches young players to think on their feet by playing a game that does not stop for time outs or breaks in play
There are a few formats we are considering:
15-a-side tackle (15's)
7-a-side tackle (7's)
7-a-side touch/flag
Rugby is growing throughout the United States. There are girls teams starting up in Charlotte and just down the road in Clayton. There are tournaments up and down the east coast as well. Many colleges have programs and some are even starting to offer scholarships.
In October 2009, the International Olympic Committee made the announcement that rugby would again be an Olympic sport in 2016 and 2020. The version that we will see in these Games is seven-a-side rugby (7's). USA Rugby is committed to developing our nation's future Olympians through the introductory game of Rugby 7s
The second most popular team sport in the world (played in more than 110 countries), rugby is a fast-paced, ball-handling game. Running, kicking, passing, catching and tackling are prominent, and all rugby players handle the ball.
Is Rugby Dangerous?

Rugby is no more dangerous than any other similar contact sports. In fact, injury rates and insurance costs are comparable to soccer. ?Contrary to many collision sports that involve equipment and padding (i.e. football and hockey) many rugby players enjoy careers lasting into their 40's and longer.

Do I Have To Be Big To Play Rugby?

An empathic NO! Rugby is every person's game. Because of the variety of positions and skills demanded in the game, athletes of all shapes and sizes can find a position. From the small, quick and wily scrumhalf, to the rugged prop, to the towering second row player, there's a position for all athletes.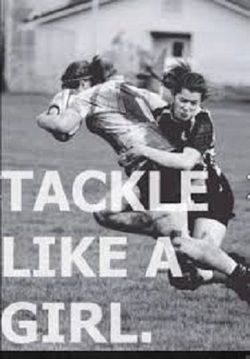 If you are interested in learning more about girls rugby or even playing, please send click the "Tackle Like a Girl" image to the left and send us your information. Please include the school you're attending and your current grade.

Our goal is to possibly create a 7's High School Division this fall.

COME GIVE IT A TRY


---