Welcome to the Home of the Redhawks Youth Rugby Club

Announcements
Season Start Dates
.
MS and JV 2016 Ruggerfest Champions!
JV State Champions
MS U14s All Star 7s Champions
High School and Middle School
Practices are 7-8:30 p.m. every Tuesday and Thursday at the JCC on Norwood Road starting January. Bring a friend.
Ages below middle school
will practice every Thursday from 5:30-6:30 p.m. at the JCC starting March 3, 2016. If there is sufficient interest among the players and parents, the 5th/6th grade team may also practice a second night a week on Tuesdays--likely from 7-8:30 p.m.
Upcoming Events
.

Tiger Rugby every Wednesday's (www.tigerrugby.com) Pick-Up Rugby Every Saturday 9-11 a.m. at Baileywick Park
.
Every Saturday starting this Saturday August 6th we will be playing pick-up rugby from 9-11 a.m. at Baileywick Park, 9501 Baileywick
Road. (Baileywick Road intersects Creedmoor Road near 540). Everyone is welcome and the kids should bring friends to these pick-up games so other kids can give rugby a try and then hopefully decide to register as Redhawks!
https://www.google.com/maps/place/Baileywick+Road+Park/@35.907577,-78.668479,15z/data=!4m2!3m1!1s0x0:0x26ddffcfd884b6ea
Please always bring your mouthpiece and wear rugby shorts (in cold weather, wear workout pants etc too). If you don't yet have rugby shorts (www.worldrugbyshop.com or other), no worries, but please get some asap. We will play in red shorts, so a pair of those would be great. Bottom line is dress appropriately for the weather. Please bring water for re hydration!
We anxious to get started!!
Click for Camp Details

PLEASE REGISTER FOR THE SEASON
If you haven't already done so, please do us a favor and sign up and pay your season dues. We want to order the jerseys so they arrive
before the season starts but we can't do that if you don't register ASAP.
Register Online Now for the Spring 2017 Season (Click Here)
Youth Schedule (Middle School and below ages)
High School Schedule JV and Varsity (Proposed)
If you have any questions or if you are not ready to register but would like to receive updates please send an email to
dkrosner@poynerspruill.com
or call 919.412.6030 for more information.
Age Groups/Description

Non-Contact
K-2 Grade
3rd-4th Grade
Contact
3-4th Grade
5-6th Grade
7th-8th Grade (Middle School)
High School (Boys/Girls)
JV (9-10th Grade)
Varity (11-12th Grade)
Professional Rugby Training for High School and Middle School Players Every Wednesday evening from 6-7 p.m. at the Poole Road Rugby complex at 7417 Poole Road
.
All high school and middle school players who want to improve their skills should be attending the TIGERS Rugby Academy sessions on Wednesday evenings from 7 p.m. They do charge $25/session but these coaches--former USA Eagles and International professional players--are excellent. The entire focus is on rugby handling drills and we have personally attended several of the sessions and can guaranty the kids that attend will definitely be better as a result. Sign up at
www.tigerrugby.com
What is Rugby? &
who are the Raleigh Redhawks?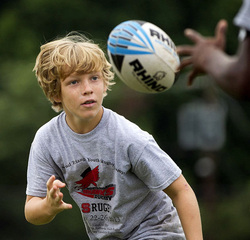 Play youth rugby for the Raleigh Redhawks!!

The Redhawks were founded in 2010 in Raleigh, North Carolina. There were around 25 boys and girls that first year and we played only touch rugby. Our U11, U13 and Girls teams all won state championships but more importantly, the game's foundation was born in the North Raleigh area. Our organization has seen growth in each of its subsequent years. The 2017 Spring season will be no exception as we expect over 100 players. The club has also been tremendously successful on the field, each year winning state championships and other tournaments at many of our age groups.
We feature teams at all age groups from kindergarten through high school. Generally, each age group consists of two grade years. For example, 5th and 6th graders, 7th and 8th graders, etc. Our teams play touch rugby (no contact) at age groups below 5th and 6th grade and play tackle rugby beginning at the 5th and 6th grade level. We have a dedicated coaching staff of experienced and enthusiastic former rugby players, most of whom played not only in college but with senior men's' clubs and for national and international all-star teams. The coaches love the game and are passionate teachers—helping to instill in their players not only rugby skills but also sports and life skills such as hard work, dedication, teamwork, perseverance and sportsmanship.
The club is a member of USA Rugby and the Carolinas Rugby Union. The Raleigh Redhawks competes against similar clubs within the State of North Carolina and neighboring states. The club also participates in various tournaments throughout the region.
Rugby is a game steeped in tradition with a magnificent history. Few sports can match the glorious idiosyncrasies and colorful characters that rugby has throughout its long and fabled history. First played in 1823 at the Rugby School in England, Rugby has grown to be one of the largest spectator sports in the world. Rugby 7s (a version of the game that has 7 players on each team) will be an Olympic sport starting with the 2016 Summer Olympic Games in Brazil.
Rugby continues to grow exponentially in the United States. Most colleges have teams and more and more youth teams of forming all over the country. There are also (and have long been) tons of senior men's teams giving players the ability to play the game from grade school well into adulthood.
Rugby appeals to boys and girls and students from a wide range of socio-economic backgrounds and of all sizes and abilities. Rugby also provides another opportunity for students to become involved in athletics as well as provide scholarship opportunities for our graduates.
The North Carolina State Rugby Program is also growing rapidly. The 2017 season has yet to begin and already there are 5 other High Schools that are showing interest in forming clubs for the upcoming season. Rookie Rugby Programs are popping up in our Elementary and Middle Schools.
What is Rugby?
• Originated from Soccer, it is the "Father" of American Football
• Fast Paced, Full Contact Sport
• Involves Running, Passing, Kicking and Tackling
• Possession Changes are Continuous so Every Position is Both Defensive and Offensive
• Every Player Must Pass, Catch, Tackle and Break Tackles—so unlike some sports, in rugby every single player has the opportunity to score
• In the traditional game, there are 15 Players per Team. There are also other variations, including 7s where there are 7 players on a team
Why plays Rugby?

• Anyone can Participate
• Boy or Girl, Big or Small, Fast or Slow, Experienced or Novice
• Sport that You Can Play the Rest of Your Life
• Opportunity for HS Student Athletes to Compete both Nationally and Internationally
• Teaches Sportsmanship
• Excellent Off Season Sport for Football, Soccer, Lacrosse, Hockey, Basketball and virtually any other sport
Benefits of Rugby?
• Provides Students With a New Fitness and Conditioning Opportunity
• Improves Hand-Eye Coordination and Ball Handling Skills
• Hones Players' On-Field decision Making Skills and Situational Awareness
• EnhancesPlayers' Speed and Agility
• Promotes Teamwork and Communication
• Reinforcesand Augments Many of the Skills taught in Other Sport Programs
What about safety?
• Non-contact for Flag/Touch rugby
•
No Pads
– Players are taught to tackle with their heads behind the runner and use the runners momentum to bring them down.
Consequently, there are much less head and neck injuries than in American Football
•
No Blocking
– Reduces Blind Side Hits and Knee Injuries
•
Tackles
– tackler must wrap his/her arms around the ball carrier—no spear tackles, no high tackles, no early or late
tackles, and no tackling an opponent whose feet are off the ground
• The Laws of Rugby Have Been Developed Over a Hundred Years to Reduce the Risk of Injury
• The Referee's number one responsibility is safety. He will blow the whistle if he sees a dangerous situation developing
• TrainedMedical Personnel are Present at All Games
• Student must complete, and clubs must retain the following documents on file:High School Student-Athlete Pre-Participation Form
Athletic Eligibility Certification Form
• Students and Facilities are Covered by USA Rugby Liability Insurance
Season
The Redhawks play in the youth division of the North Carolina Youth Rugby Union. The season runs from the last week in February through mid-May cumulating in the season ending championship tournament called the Carolina Cup. In addition, teams will play in the State PowerAde 7s games on June 20th 2015. We will hold periodic coaching and training clinics in the months prior to start of the season. All players must be registered in order to
participate in clinics and season.
The Raleigh Redhawks is always accepting new players regardless of skill or prior playing experience. No experience is necessary and the basics of
rugby are very easy to learn. We welcome players Kindergarten to High School seniors to join us and become a part of the fastest growing sport in America. Whether you're trying rugby for the first time or you are a seasoned player, there is a place for you with the Raleigh Redhawks. Rugby is a sport for everyone and a great way to get into shape! Aside from that, it is a great way to meet new people and make friends.
Registration will be completed via our website Registration will open September 1st 2014 for the upcoming season. All players will register through the Sports Sign up via the link below.
https://northraleighyouthrugby.sportssignup.com
Registration consists of two options
(OPEN ENROLMENT NOW!):
Boys Youth Contact (Tackle)
Fee:
$200 – Includes practices (Approx. 95 hours) from October through the end of June 2017, CIPP, Jersey and Tournament fees (Carolina cup and State Games)
HS/JV
Practices start in January and will be twice a week at the Jewish Community Center (JCC) or other location that has lights.
5/6 & 7/8 grade teams will start with twice a week practices in late February although there will be periodic practices before then for those that
can attend and there will be a full weekend mini-camp the weekend before the first official week night practice of the season
Girls Rugby (Tackle & Touch) - Middle School and High School Grades
Fee:
TBD ** Please send us your info using Contact US if interested in Playing **
Co-Ed Youth Touch (Touch)
Fee:
$100 – Includes practices from end of February through June 2017, CIPP, Jersey and Tournament fees (Carolina cup and State Games)
Practices start late February and will be twice a week at the JCC.
Payment:Please access the registration link below to sign-up for the 2016-2017 season.
Registration link is as follows:
http://northraleighyouthrugby.sportssignup.com
We have included a few links to how Football players benefit from Rugby High school team:
http://rugbywrapup.com/2014/10/rugby-tackling-technique-makes-way-to-high-school-football
Seattle Seahawks (Tackle)
https://www.youtube.com/watch?v=7HihjPApzCg
Football Strategy " a rugby maul"
https://www.facebook.com/#!/video.php?v=10152683093637856&set=vb.17819162855&&theater
o Rugby makes Football safer: TV commentary during NCAAF game OSU vs CAL
here
.
o Successful NFL/Rugby players include:
Haloti Ngata, Stewart Bradley, Johnson Bademosi, Hayden Smith, Steve Paea
and
Nate Ebner
.
o Haloti Ngata feature: playing rugby (18 yrs old): see
here
.
o Haloti and Stu Bradley feature: how rugby helps football: see
here
.
o Hayden Smith interview: see
here
.
o THE RUGBY CASE: a crossover sporting opportunity for all football players during the off-season. Please view our power-point argument
here
. This is from our server and is safe.
o Article by Alex Goff (Gridiron Coach "It's a whole new ball game") - How rugby makes better football players. See
here
.
o Articleby Lyle J. Micheli MD, American College of Sports Medicine: Is rugby a safe sport for America's youth? See
here
.
o Football helmets overlooked a piece of the concussion puzzle: view video
here
.
o USA Rugby link
here
.
The North Raleigh Youth Rugby Association (NRYRA) is a non-profit rugby association, servicing the North Raleigh and Raleigh Community!
We are a community based club providing youth rugby to kids in Wake Forest, Raleigh, and surrounding communities. The club invites all
interested kids and their parents to contact us about playing for the Redhawks. No prior rugby experience is required. Our club has players with backgrounds in many different sports, including ice hockey, soccer, basketball, football, cross country, lacrosse, and wrestling.
#rugby, #redhawks, #raleigh rugby, #north raleigh rugby, #redhawks rugby, #north raleigh redhawks
#raleigh vipers, #raleigh rattlesnakes, #cary claymores, #cary, #raleigh, #wake forest, #rugby, raleigh rugby raleigh rugby, raleigh rugby football club, vipers
---
---
---
** 2015-16 Registration is Open! **

Click Here

The North Raleigh Youth Rugby Association
(NRYRA) is a non-profit rugby association, servicing the North Raleigh
and Raleigh Community! We offer instructional rugby to boys and girls from
preschool age through high school. The coaches, managers, and board of
directors consist of dedicated parent volunteers whose goal is to develop
rugby players and ensure that the kids have FUN in the sport of
rugby.

The
objective of the NRYRA is to design and maintain programs to increase
participation, improve skills, sportsmanship, teamwork, and enjoyment for our
athletes. Our programs provide support that meets the needs of the
beginning player where basic skills are taught as well as programs which offer
opportunities of those who wish to advance in a more competitive rugby
environment. NRYRA donations go
towards a great cause, helping to maintain the most affordable "TOUCH" and
"CONTACT" Rugby programs in the Triangle and surrounding areas, to financial aid
programs as well as back to the community donations.
NRYRA is asking generous sponsors to partner with us and help our
association enhance the future capabilities of our talented players and increase
our membership.

Tax ID # 27-3797494

NRYRA is organized exclusively for one or more of the
purposes as specified in Section 501 (C) (3) of the Internal Revenue Code of
1954 and under chapters 105 and 138 of the General Statues of North
Carolina. Sponsorship / Donation
funds are properly recorded and monitored to ensure NRYRA conforms to Federal
tax laws. Potential sponsors /
donors will receive proper documentation according to IRS Federal tax
laws.