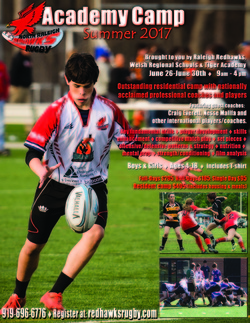 2018 Raleigh Redhawks Rugby Academy Camp
June 25-29th

Registration link is as follows:
http://northraleighyouthrugby.siplay.com/site/
The Raleigh Redhawks in conjunction with Welsh Regional Development Officers are pleased to announce our fourth annual Rugby Academy. Our Academy last year was a huge success with about 50 campers and excellent instruction. This year's camp will again be held at the JCC center. In addition, new this year we are offering a resident/overnight option for ages 11-18 where players can stay in housing.
DATE: June 25 thru June 29th
TIME: 9:00am to 4:30pm (normal day camp) ** See tentative resident camp schedule at bottom
FEES: Resident/Overnight $495 (based on double occupancy)* Depending on numbers
Single Room option for an additional $70
Day Camp (week) $295
Half Day (week) $185 (morning or afternoon option)
Single Day(s) $95/day

Special Guest Coaches:
Craig Everett. Cardiff v Llanelli

I am pleased to announce that Craig Everett will be one of our guest coaches. Craig is still an active player with Merthyr. He has also represented Wales at U21, played professionally for Cardiff, Carmarthen Quins, Aberafan, Scarlett's and Worcester Warriors. He is a back row forward who will complement greatly the coaching staff. In addition to being an active player, he is also a Welsh Rugby Development officer, responsible for the development of the players and the game for the Welsh Rugby Union.


---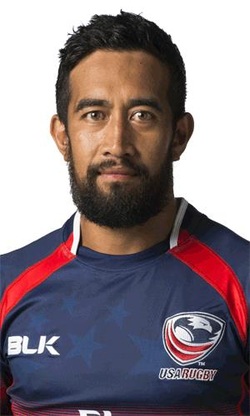 Nese Malifa
Nese is a Regional Director for Tiger Rugby. He played flyhalf for the United States national team since his debut against the England Saxons in 2007. Nese made two appearances at the 2007 Rugby World Cup in France, and played three matches for the U.S. at the 2011 Rugby World Cup in New Zealand. Nese also played for the United States national rugby union team (sevens), and he led the U.S. in scoring during the 2009 - 2010 IRB Sevens World Series with 120 points. Nese now resides in Southern Pines, NC, where he leads Tiger Rugby Olympic Development Academy for the region and is very active in promoting, growing and coaching youth rugby.


---
Mike Stanaway. Mike, originally played in New Zealand, then was scouted to play professional Rugby in Edinburgh Scotland. After a three year stint in Scotland Mike was again offered a contract in San Diego for the Old Mission Beach Athletic Club (OMBAC) elite team. Mike then made the USA Eagles National Rugby team with many tours around the globe.
Tentative Schedule for the Resident Option
7:30a Wake up
7:30-8:30a Breakfast
9:00-12:00p Training Session
12:00-1:00p Lunch
1:00-4:00p Training session
4:30-5:30p Dinner

10:00p In room (lights out)