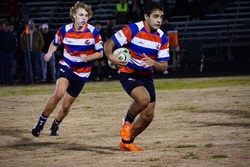 February 17th 2017

Final Score Raleigh Redhawks 21 – Clayton Copperheads 19

Friday the 17th served as a landmark day for the Raleigh Redhawks Varisty Team. The Redhawks started out their Varsity inaugural season with an away game at the Highlanders. The young squad took some lumps early in the first half, after starting the season with a very difficult game against experienced State champions. As a brand new Varsity high school team, it would have been easy to fold under the pressure exerted in the first half, but the team came together and fought hard in the second half.

The score will illustrate a lopsided loss, and will serve as a starting block for our marathon. To the credit of the Redhawks players, they went out and played hard against the odds and they slowly began to show improvement with each passing minute. With almost half of the lineup consisting of players in their first season of High School rugby, it was a slow learning process, but progress was made!

On Sunday February 5th the Redhawks faced Union County and after a sloppy first half and some disciplinary issues the Redhawks came back in the second half and showed their pace and opened up the scoring quickly against the experienced Union County side. They rallied in the second half and there were periods of play in which they showed potential of what can be accomplished this season with experience.

Riding a little bit of momentum, the team faced their cross-town brothers the Clayton Copperheads. Under the lights on a brisk Friday evening, the Redhawks went up in the first half from two tries from wing Scotty Lindsey.

The second half started with the Redhawks down to 13 men. Clayton took advantage, came back strong, and tied the game with 15 minutes to go. At full strength, the Redhawks 9th grade scum half George Obrien finished with a 30 yard solo try to bring the score to 21- 14. Another yellow gave the Copperheads and opportunity to score in the corner with Preston Slater for his second of the night. The difficult missed conversion made the difference, with the Redhawks holding out for a 21-19 win over the Copperheads.

The Redhawks rucking and set pieces were vastly improved and the Redhawks showed growth throughout the game and will take great optimism into the next game. A few notable player mentions: Caleb Faneuf at number 8 find his natural home, Kris Thomas at fly made all three crucial kicks and controlled the tempo of the game. Both played complete games, with a few strong runs and were solid in defense.